Subscribe
 Subscribe to get the notice of special offers, coming new releases, events and more.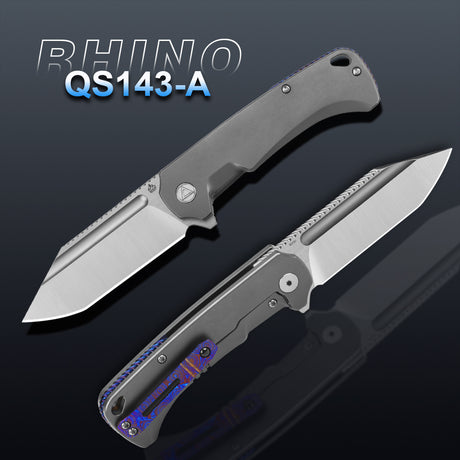 QSP RHINO
QSP RHINO is a high premium model, it made by M390 steel, Titanium handle with mokuti clip and backspacer.
FIND MORE...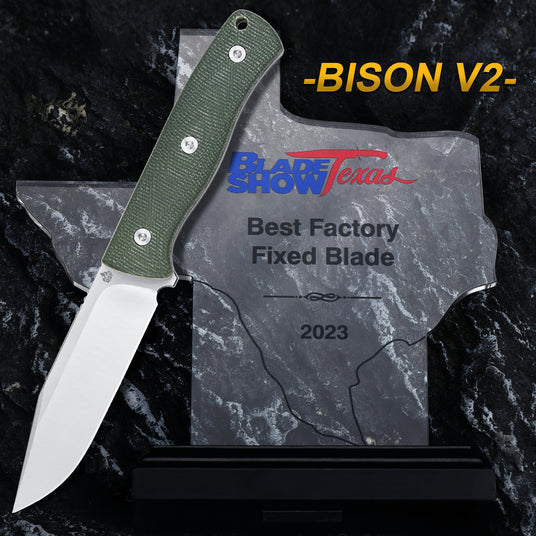 Award
We are glad to announce QS134 Bison has be awarded as the BEST FIXED BLADE KNIFE in Texas Blade Show 2023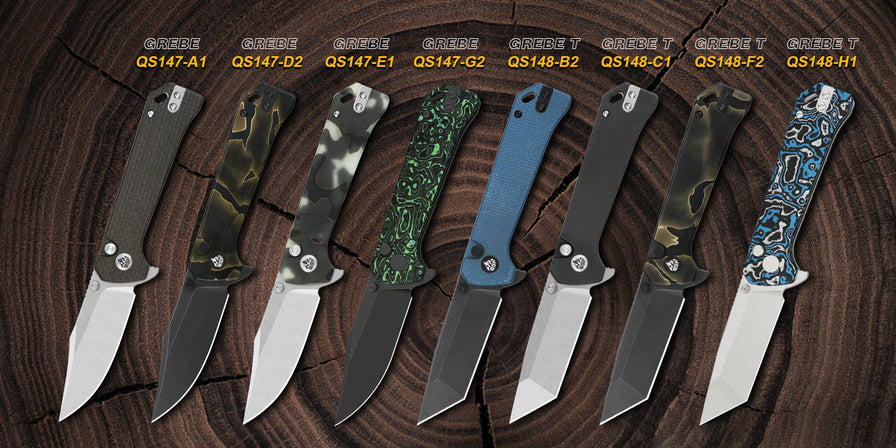 NEW RELEASE
Gerbe and Gerbe T are the new models released in Aug . Both of them have budget range and Premium range.
Multiple open options, fidget your knife!
---
QSP Penguin Slip Joint 14C28N blade G10 Handle - Satin blade White cover Black liner G10 is backordered and will ship as soon as it is back in stock.
---
QSP offers Pocket knives, Fixed blade knives, neck knives, kitchen knives and more.
A table comparing the facets of 5 products

Facet

Price

Price

Description

Description

Category :  POCKET KNIFE

Mechanism :  Ball bearing


Name: Parrot

Blade: D2

Handle: G10

Lock: Liner lock

Mechanism: beall bearing


Overall: 7.25''(184mm)

Closed:4.00''(102mm)

Blade: 3.25''(82mm)

Blade thickness: +/-3.0mm ( finished product )

Reversible stainless steel clip

HRC: 58-60

Net weight: +/-90g( 3.20oz )

Category :  POCKET KNIFE

Mechanism :  Copper washer


Name: Penguin Slip Joint

Blade: 20CV

Handle: Fat Carbon

Lock: Slip Joint

Mechanism: copper washer


Overall: 7.08''(180mm)

Closed:4.06''(103mm)

Blade: 3.02''(77mm)

Blade thickness: +/-3.0mm ( finished product )

HRC: 59-61 ( blade HRC1 less than satin blade )

Net weight: +/-112g( 3.95oz )

Category :  POCKET KNIFE

Mechanism :  Ceramic ball bearing


Name: Grebe

Blade: S35VN

Handle: Raffir resin

Lock: Button lock

Mechanism: ceramic ball bearing


Overall: 7.25''(184mm)

Closed:4.25''(108mm)

Blade: 3.00''(76mm)

Blade thickness: +/-3.0mm ( finished product )

Reversible stainless steel clip

HRC: 59-61 ( blade HRC1 less than satin blade )

Net weight: +/-105g( 3.70oz )

Category :  POCKET KNIFE

Mechanism :  Ceramic ball bearing


Name: Grebe T


Blade: 14C28N

Handle: G10

Lock: Button lock

Mechanism: ceramic ball bearing


Overall: 7.25''(184mm)

Closed:4.25''(108mm)

Blade: 3.00''(76mm)

Blade thickness: +/-3.0mm ( finished product )

Reversible stainless steel clip

HRC: 59-61 ( blade HRC1 less than satin blade )

Net weight: +/-117g( 4.13oz )

Category :  NECK KNIFE

Mechanism :  Fixed blade


Name: Canary

Blade: Laminated Damascus

Handle: Carbon Fiber

Overall: 5.25''(133mm)

Closed: 2.75''(70mm)

Blade: 2.50''(63mm)

Blade thickness: +/-3.0mm ( finished product )

HRC: 58-60 core 

Coming with a necklase kydex sheath

Net weight: +/-83g( 2.93oz ) ( with Kydex sheath )